SIP & Savour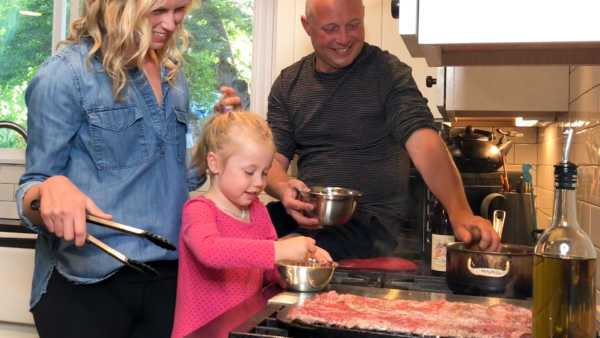 Our family has a passion for cooking! With more time in the kitchen these days, we are able to SIP (Shelter In Place AND Sip) our wines and SAVOUR them alongside some of our most beloved recipes. In fact, we'd like to invite you to dinner!
Every other week, we will send you the recipe and the suggested wine pairing.  This will give you ample time to plan and prep accordingly. Then, join us every other Thursday on our Lang & Reed Facebook Live Stream at 2:30pm PST to join Megan & Reed in their kitchen for a demonstration preparing the recipe and tasting it alongside our wine.  We will be pairing our favorite recipes with our favorite wines – Lang & Reed wines, of course!  You'll also receive a video link, in case you miss the Facebook Live Stream.
We look forward to meeting you in our kitchen. Making these recipes with you and pairing them with our wines will bring us joy! And who doesn't need a little more joy these days, right?
These videos would not be possible without the fantastic talent of our friend/director/producer, Ben Tedesco.  To see is other work, please visit www.bentedesco.com.
Recipe for August 6th: Provenҫal Leg of Lamb
Download Recipe
Smoked Pork Chops
Paired with 2016 Cabernet Franc, North Coast
Smoked Pork Chops
Recipe by Reed & Megan Skupny
Seared Bison Steaks
Paired with 2016 'Two-Fourteen' Cabernet Franc, Napa Valley
Seared Bison Steaks
Recipe by Thomas McNamee
Food & Wine Magazine, August 2008
"Ode to Zuni"
Paired with 2015 Cabernet Franc, North Coast
Roast Chicken with Fennel Panzanella
Recipe by Chef Suzanne Goin
Food & Wine Magazine, October 2013
Vidalia Onion Frenzy
Paired with 2018 Chenin Blancs, Mendocino AND Napa Valley
Recipes by Chef Rick Stack
Braised Chicken Legs
Paired with 2015 Cabernet Franc, North Coast
Recipe by Daniel Bouloud
"Chef Recipes Made Easy"
Food & Wine Magazine, October 2006
Mustards Grill Dinner
Paired with ALL Lang & Reed wines!
Order from Mustards Grill HERE.
Dungeness Crab Cakes
Slow Smoked BBQ Pork Sandwich
Grilled Hanger Steak
Oyster Tutorial
Paired with 2018 Chenin Blanc, Mendocino
Tutorial by Megan & Reed Skupny
Pairing by Sara Schneider
Sunset Magazine, January 2016
Wasabi Steak
Paired with 2015 Cabernet Franc, North Coast
Recipe by Takashi Yagihashi
"Simple, Healthy, Home-style Japanese Cooking"
Food & Wine Magazine, March 2009
Rosemary Pork Roast
Paired with 2016 Two-Fourteen Cabernet Franc, Napa Valley
Recipe by Sara Schneider
"Wine in the West:  A red for right now"
Sunset Magazine, March 2012
Pork in Lettuce Cups
Paired with 2015 Cabernet Franc, North Coast
Recipe by Lynne Char Bennett
"Pairings"
San Francisco Chronicle
Orange Beef
Paired with L&R 2018 Chenin Blanc, Mendocino
Recipe by Sam Sifton
"Asian Pantry Essentials"
The New York Times, September 2015
Fennel Seed Meatloaf
Paired with L&R 2015 Cabernet Franc, North Coast
Recipe by Chef Anya Fernald
"The Locavore Empire of Anya Fernald"
Food & Wine Magazine, January 2013
---